LEARN MORE ABOUT THE BLACK GIRLS INVEST COLLECTIVE MEMBERSHIP: SEE MORE ABOUT MEMBERSHIP ................................................................... LEARN MORE ABOUT THE BLACK GIRLS INVEST COLLECTIVE MEMBERSHIP: SEE MORE ABOUT MEMBERSHIP ............................................................................ LEARN MORE ABOUT THE BLACK GIRLS INVEST COLLECTIVE MEMBERSHIP SEE MORE ABOUT MEMBERSHIP
BLACK GIRLS IN REAL ESTATE
Created by CEO + Founder Jeanine Searcy, Black Girls in Real Estate is the "OFFICIAL" Online Community for Black Women in Real Estate. This platform is geared towards Educating, Empowering and Building Wealth Through Entrepreneurship and Real Estate.

-

EXPLORE THE SITE
BLACK GIRLS INVEST COLLECTIVE MEMBERSHIP
ENJOY the full
experience.
To revel in all the many perks + gain exclusive access to our network, along with a community of like-minded women; Join our VIP Membership now!
become a vip member
YouTube
CHECK OUT OUR YOUTUBE CHANNEL + DON'T FORGET TO SUBSCRIBE
" Our goal is to provide education on financial literacy, so that you can take the steering wheel for your life and drive your own personal impact."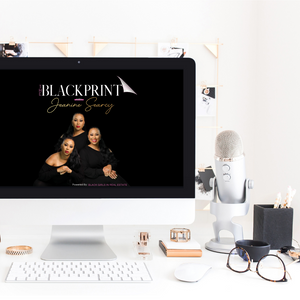 bgire presents:
The Blackprint
Podcast
We are Launching our Podcast soon, stay tuned. You absolutely don't want to miss this, you can't afford to.