Hey Sis, Are you Interested In  Advertising Your Business, Service(s), Product(s), or Event Through Our Social Channels?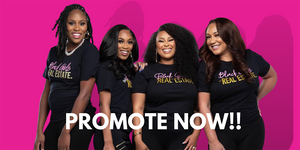 Advertise your business through our engaged social channels! We offer promotional services through our private Facebook group of over 83k+ members! With over 45k+ followers on Instagram and over 40k+ likes on our Facebook page your promotion will have PRIME visibility to one of the largest real estate platforms online! Or send an email blast to our constantly growing email list with one 30k+ recipients! We are ready to help you grow the business/brand sis!..
PLEASE READ BEFORE PURCHASING
🚀ONCE YOUR PURCHASE IS MADE, EMAIL SUPPORT@BLACKGIRLSINREALESTATE.COM WITH YOUR NAME, ORDER NUMBER, AND COMPLETED AD.
🚀BE SURE THAT ALL EMAIL ADS ARE PROOFREAD FOR ERRORS AND BE SURE ANY LINKS INCLUDED WORK.
🚀A COMPLETED AD SHOULD BE YOUR PROMOTION PHOTO, REEL, OR VIDEO, AND CAPTION TO BE POSTED.
🚀IF YOU ARE WANTING TO PROMOTE A REEL, PLEASE SEND THE AD WITHOUT THE MUSIC AND INDICATE WHICH SONG YOU WOULD LIKE PLAYED IN THE BACKGROUND, THIS WAY INSTAGRAM DOES NOT FLAG THE POST FOR COPYRIGHT.
🚀IF YOU ARE SUBMITTING PHOTOS, YOU CAN ADD UP TO 5 PHOTOS TO YOUR CAROUSEL. PLEASE INDICATE PHOTO ORDER IN YOUR EMAIL.
🚀YOUR PROMOTION VISIBILITY IS DIRECTLY TIED TO THE EFFICIENCY OF YOUR AD. PLEASE SEND CLEAR PROFESSIONAL PHOTOS/VIDEOS/REELS. PLEASE DOUBLE CHECK YOUR CAPTION TO INCLUDE CORRECT HANDLES AND HASHTAGS.
🚀WE DO NOT EDIT PHOTOS OR CAPTIONS AND WILL POST WHAT IS DIRECTLY SUBMITTED.
🚀YOUR AD WILL BE POSTED WITHIN 7 DAYS OF BEING SUBMITTED DURING OPTIMAL PROMOTION TIME OF 9 AM EST – 10 PM EST. WE DO NOT ACCEPT POST SCHEDULING.
🚀PLEASE CONTACT US AT SUPPORT@BLACKGIRLSINREALESTATE.COM BEFORE SUBMITTING YOUR AD IF YOU HAVE ANY ADDITIONAL QUESTIONS.