She Owns It: Real Estate Investing Tour

Mission: From Zero to 7-Figure Real Estate Investor 
Unlock Your Financial Potential in Real Estate
Join Us For Our She Owns It Private Tour Networking Event!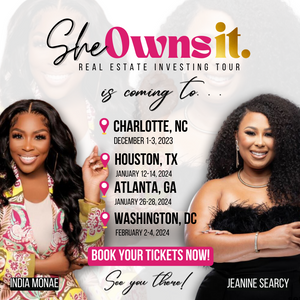 Are you ready to take control of your financial future?
Join us at the She Owns It: Real Estate Investing Tour, where you'll gain the knowledge, strategies, and network you need to succeed in the world of real estate investment.
What You'll Experience
🏡 Expert Insights: Learn from leading women in the real estate industry who have successfully built wealth through property investment.
💼 Practical Workshops: Participate in hands-on workshops covering key aspects of real estate investing, from property selection to financing strategies.
🌐 Networking Opportunities: Connect with like-minded women investors, mentors, and industry professionals.
📈 Investment Strategies: Discover proven strategies for beginners and experienced investors to maximize returns and minimize risks.
🔑 Financial Empowerment: Gain the confidence and knowledge you need to create a secure financial future.
Conference Highlights
Keynote Speakers
Jeanine Searcy: Real Estate Investor and Coach
India Monae: Real Estate Investment Strategist
🔑Workshop Topics
🔑MultiFamily Investing
🔑Fix and Flip Investing
🔑BRRR Method Investing
🔑Finding Profitable Properties
🔑Analyzing Profitable
🔑Properties
🔑Financing Your Investments
🔑Strategies for Scaling Your Portfolio
🔑Wealth Building Through Real Estate
🔑Panel Discussions
🔑Women's Success Stories in Real Estate .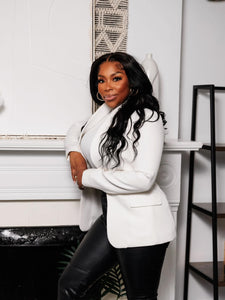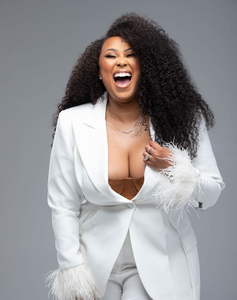 Why Attend?
Whether you're a newcomer to real estate investing or looking to take your investment portfolio to the next level, this tour is designed for you. Here's why you should attend:
🌟 Empowerment: Gain the knowledge and confidence to make informed investment decisions.
📚 Education: Learn from experienced professionals who have been in your shoes and achieved success.
🤝 Networking: Connect with a supportive community of women investors, mentors, and industry experts.
🚀 Actionable Insights: Leave with practical strategies you can implement immediately to grow your wealth.
💼 Inspiration: Hear from accomplished women who have broken barriers in the real estate industry.
🌟Tours: Get into the field and analyze actual deals available in today's market in real time
Reserve Your Seat Today!
Don't miss out on this unique opportunity to accelerate your journey to financial independence through real estate investing. Space is limited, so secure your spot now and invest in your future!
Join the Ultimate She Owns It Real Estate Luxury Mastermind Retreat and Education Immersive & A VIP TRIP to Tulum Like Never Experienced Before!
Join our 8 week virtual Real Estate Investing Mastermind that ends with an exotic trip to Tulum, MX 
Accommodations and Meals Included 
Must Secure Your Own Flight 
Passport Required .
Elevate Your Lifestyle & Your Income with Real Estate Investing 
Are you a woman who dreams of financial independence through real estate investing? Do you long to control your finances, your time and your freedom? Are you ready to come up for air in your finances? Do you want to be a hands on wife, mother, friend or just free, but have not had the luxury in your life to do so just yet. Are you tired of being overlooked and underappreciated at your job? Are you looking for a Real Estate Investing Blueprint that is easy to follow that will hold your hand and teach you a step by step process of how to build your business foundations, secure financing, access the market and make smart life changing investment decisions. Do you want to build wealth, gain knowledge, and network with like-minded women who share your ambitions? If so, you're in the right place! Introducing the She Owns It Real Estate Mastermind and VIP Tulum Experience: Your Path to Financial Freedom.
Fix & Flip 4-Week Course Curriculum:
Week 1: Building Your Foundation
Topic: "Getting Started in Real Estate: Setting Your Goals and Strategy"
Identifying your financial goals in real estate investing.
Defining your investment strategy: rental properties, fix-and-flip, or wholesaling.
Creating a personalized real estate investment plan.
Week 2: Finding Profitable Properties
Topic: "The Art of Property Hunting: Strategies for Finding Hidden Gems"
How to identify emerging markets and target neighborhoods.
Researching and analyzing properties for investment potential.
The role of real estate agents, wholesalers, and online listings in property sourcing.
Week 3: Financing Your Investments
Topic: "From Dollars to Deals: Understanding Real Estate Financing"
Exploring various financing options: mortgages, private lenders, and creative financing.
Calculating your investment budget and determining your risk tolerance.
Negotiating with lenders and securing funding for your real estate ventures.
Week 4: Navigating the Deal Process
Topic: "From Offer to Ownership: The Real Estate Transaction Journey"
Making successful offers and negotiating deals.
Conducting due diligence: inspections, appraisals, and title searches.
Closing the deal and taking ownership of your real estate investments.
Buy & Hold 4-Week Course Curriculum:
Week 1: Introduction to Buy & Hold Investing
Topic: "The Foundation of Buy & Hold Real Estate"
Understanding the Buy & Hold strategy and its benefits.
Identifying the types of properties suitable for Buy & Hold.
Calculating potential rental income and return on investment (ROI).
Week 2: Property Acquisition & Financing
Topic: "Finding, Funding, and Acquiring Investment Properties"
Locating and evaluating potential Buy & Hold properties.
Financing options: traditional mortgages, private loans, and creative financing.
Navigating the purchase process and negotiating with sellers.
Week 3: Property Management & Tenant Relations
Topic: "Managing Your Buy & Hold Investment for Long-Term Success"
Creating effective property management systems.
Screening and selecting tenants.
Handling property maintenance and repairs.
Dealing with common tenant issues and legal considerations.
Week 4: Wealth Building & Scaling Your Portfolio
Topic: "Building Wealth through Buy & Hold and Expanding Your Portfolio"
Strategies for growing your real estate portfolio.
Leveraging equity and cash flow for future investments.
Long-term wealth-building and exit strategies.
Building a retirement income stream through Buy & Hold.