The Black Women's Initiative Private Real Estate Investing Coaching with BGIRE Founder Jeanine Searcy
This 2-month private coaching program gives you the mentorship, training, resources, and sisterhood that you need to go from a new investor into your first or next deal.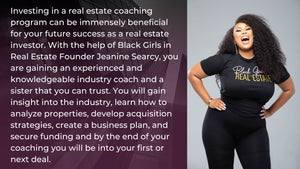 Are you ready for a change?
You probably have been working hard for years on your corporate job and already have the credit, capital, or savings that you need to get started however you aren't sure how to leverage it.
One thing I can tell you is that money sitting in the bank does not help your money to grow and the interest that you are accumulating is close to pennies on the dollar compared to the money and wealth you can build through real estate investing.
Even if you don't already have the cash but you have the credit we can assist you with getting the funding that you need for your down payment, working capital, and the loan to purchase the investment property.
If you have a 670 credit score and $3500 we will introduce you to our affiliate partner to secure your down payment funds and working capital - an additional fee.
Many of my students started in this program while working full-time jobs and have been able to successfully transition into full-time real estate investors because they planned for the transition and executed it.
The profits that they have made have allowed them to transition into full-time entrepreneurship, begin to travel the world, reinvest in their next deals and begin to build generational wealth for their families.
I'M READY TO LEARN
You will receive 2-months of weekly Private LIVE Coaching with just you and me on these exact steps :
☑️How to start your business and secure business funding
☑️Creative ways to finance deals and to secure capital to invest.
☑️How to leverage business credit and credit cards to launch your real estate business.
☑️How to use your 9-5 as an asset, manage and run your project, then quit responsibly and securely.
☑️Learn the J. Searcy Investment Method: Own It, Flip It, Build It, Do It Again
☑️How to build your team and where to find a good contractor, and how to manage them.
☑️How to analyze investment properties for profits and cash flow.
☑️We will assist you with finding your first or next investment property and we will help you to secure the down payment for the investment loan + the investment property loan .
How does this work?
☑️Our sessions are LIVE and personalized for your business and personal development.
☑️Once you sign up for coaching you will receive a Calendly Link where you can sign up for your sessions.
☑️We will meet weekly for 1 hour on Zoom for coaching and Q&A .
☑️You will additionally receive e-books and resources for support.
☑️We have a National Real Estate Agent partnership to assist with connecting you to an investor-friendly agent to support you through the process of purchasing your investment property.
☑️We have a company Funding Executive that will hold your hand through securing your hard money loan for your investment property.
☑️We will also support you in interviewing and hiring your General Contractor for your property.
☑️And then guess what you're in the deal sis!
☑️We will assist you with finding your first or next investment property and we will help you to secure the down payment for the investment loan + the investment property loan.
Sis, you are in!
Upon securing your investment property you will be introduced to our exclusive sisterhood For Investors Only Community and receive your personalized Black Girls in Real Estate letterman jacket at our annual awards ceremony and weekend.
This is the comprehensive coaching and sisterhood that you have been waiting for!
What an amazing way to transition into real estate investing and entrepreneurship with support from our Founder Jeanine Searcy and other sisters like her along the way! We are the community that you have been waiting for!
Your Investment: $15,000
Accepting Clients Now
Here, we'll understand your real estate goals and establish how we'd be a great fit.
BOOK NOW