Vendor: Black Girls In Real Estate
At Black Girls in Real Estate, we believe in the power of community and support. ACTIVATE has been designed for women that are looking to create a successful career in real estate and real estate investing but that need guidance and support and direct mentorship. 
Throughout the program, you will have access to a vibrant network of like-minded black women in the industry. 
Engage in mentorship, participate in, in person networking events, challenges and have an opportunity to connect with industry leaders who have blazed trails before you. 
We foster an environment of collaboration, knowledge-sharing, and empowerment, ensuring you feel supported every step of the way.
Join us on this transformative journey as we uplift and empower black women to get activated in their real estate careers. 
Together, we will break barriers, shatter ceilings, and create a future where black women thrive as influential leaders, business owners, and change-makers in the real estate industry.
ACTIVATE is for you if you are a woman:  
that is brand new to real estate and needs direction
that has been in the real estate industry but needs a fresh perspective on the industry & new skills  
that is looking to get started in real estate investing but have no idea where to start 
that is looking to rebuild and redesign your life after experiencing loss, divorce, struggle, bankruptcy and/or credit issues 
that feels lost in business and life and are looking for a tribe 
that know they can launch their business idea but that need guidance, support and resources
that thrives off of sisterhood and empowerment
that knows that in order to change her life she must first change herself  
that is ready to active her life 
Listen Sis, I have experienced all of these scenarios, I know first hand the importance of choosing yourself and deciding to take action. 
Have you ever been in a situation where you have had a longing desire to build a successful business but no one around you understands or supports you?
I believe that it is time for us to start owning our lives, our finances and our careers and taking charge. Our families and our kids are counting on us to make the difference in their life and in order to help them we must first choose to help ourselves and take action.
I'm inviting you to become a member of my Mentorship Program Activate so that for the next 12-months I can pour into you and your business with the encouragement, the empowerment and the resources and connections that you need to build the real estate career that you so desire 
As a member of my ACTIVATE Mentorship Program you'll receive
Weekly LIVE Coaching
Video Recordings
Meetups
Challenges
Posts
DMs and Text
Resources
On-going Support and Sisterhood you will gain the clarity and direction that you are seeking for your business 
This is the monthly membership that is going to keep you in the zone weekly to help you change your life, your network, your mindset and your income 
You will receive coaching, challenges and empowerment from me that changed my income from $30,000 to over $1.5M a year 
~ Snapshots of what's currently working for me today in my own 7-figure business 
So that you can apply these strategies to your business
~Weekly Inspiration to level up every aspect of your business, financial and personal life 
If you are an entrepreneur or desiring to become one you know that all of these are linked together
~Inspiration and wisdom from my personal mentees and private students 
Proximity to greatness is important - you need new connections and new friends on this journey everyone can't come - learn from other people's biggest wins and losses so you can move forward in excellence and avoid pitfalls and procrastination
~Challenges - We are giving you monthly challenges that are going to require you to level up your mind, body and business - as an added benefit we are giving away money to monthly winners for participating in the challenges  
Our membership is based off of our 6 success pillars: 
EDUCATE

POUR

PRAY

CHALLENGE

ACTIVATE

SCHOLARSHIP
~Guard your mind against negativity, doubt and naysayers 
~You are the generational curse breaker in your family
~Maintain your momentum and stay connected and fired up 
~Use the guidance and coaching of Jeanine and increase the speed of your wins - with proven wealth strategies and connections 
Join the ACTIVE Mentorship Program and here's what you get 
PRAY
Monday Morning Prayer 
8 AM EST 
Adriane Adkins 
POUR
LIVE Coaching with Jeanine Searcy 
Tuesdays 7-8:30 PM EST 
CHALLENGE
Monthly Challenges designed to improve your health, finances and business 
Daily Check In - Post for the day & Must Show Proof by 6 PM EST 
EDUCATE
Family & Finance Session - Every 3rd Saturday of the month - in person & zoom & live 
SCHOLARSHIP
I am investing back into you! I believe in your success! Each month $1,500 will be given out in a scholarships for active members that participate in our membership 
We believe that it is important to truly support our community and to give back to women that are working to make a difference in their community and lives. 
These are monthly scholarships that will be awarded at the end of the month to a different member each month. The awards will be determined by letters and interviews.
The Foundation Scholarship - $500
Will be awarded to a woman that is looking to become an agent or that is seeking to further her career with continuing education (must be used towards study prep, fees or CE)
The Relief Scholarship - $500
This scholarship is need based and will go towards a woman that can prove an outstanding debt on her credit or an outstanding bill that needs to be paid. 
The Applied Scholarship - $150 and $150
This scholarship will be awarded to two woman that accomplish all of the challenge initiatives for the month and that are active in our community 
The Launch Scholarship - $200 
This scholarship is awarded to a woman that is starting her business. This scholarship can be used towards incorporating fees, marketing expenses or start up costs. 
All Funds will be directly applied towards the bill 
Listen, this is the year of yes! Success loves company and money is a blessing magnifier and game changer for your family 
Let me help you find your niche, your tribe and your success - let's get started and multiply your money hunny! 
Aren't you getting tired of it taking so long! Let's remove the hurdles and start today!
Our membership has everything that you need to make a difference in your life. 
Hit the  join button now and let's get started.
Once you become a member you receive an welcome email and a link to join our Private Group
Black Girls in Real Estate Mentorship Program: ACTIVATE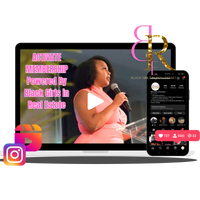 ACTIVATE MENTORSHIP
306.92 dh